Kitchens are a catch all space in every one's home.  When it comes to austin home staging, it is important that kitchens look and feel like a kitchen and nothing more.  It is best to begin by completely cleaning off all of the counters.  Do deep clean of the counters, the sink, the floors, windows, etc.  After the space is completely clean put back on a few select items.  Less is more in a kitchen.  Buyers are not purchasing your kitchen utensils nor your decor, they are purchasing the cabinets, counter tops and floors- so show them what they are purchasing.  Below are the standard items you should place back on the counters for a staged and model home look.
– Fresh bottle of soap on left of sink
– Small green plant on right of sink
– If you have a ledge above the sink, this is another great spot for a small decorative plant
– Place a fresh rug underneath the bathroom sink
– Place a bottle of wine and two wine glass on a tray- or you can use lemonade with two fun glasses- this makes buyers start thinking about entertaining in the space
– Clean up your coffee maker and place two mugs on each side- nicely fold a formal dinner napkin and tuck in each mug
– Place a canister of utensils on one side of stove
– Place knife block on other side of stove
– If you have an island, place a beautiful bowl or basket with fresh fruit
Here is a great example of the suggestions above: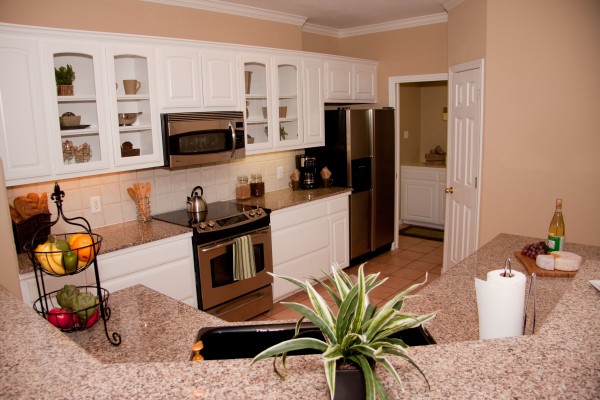 Call today to set up your Austin Home Staging appointment! 
(512) 585-9550
 I look forward to working with you!