Have a vacant home?  Rent props from Austin Simple Staging and you can take a lifeless house and turn it into a home buyers will desire.  Check out the before and after photos below.  This is a vacant home that  I recently staged.  We utilized a few peices of the family's furniture but the rest of the props pictured they rented from Austin Simple Staging.  Give me a call, I would be more than happy to meet you at your property and provide an estimate.  Trying to sell a vacant home is no fun, so stage it so you can sell it!
BEFORE
A vacant house is nothing more than lifeless.  When a space is vacant it allows buyers to focus in on some of the negative aspects of a home.  For example, check out the backspash, it is a 6×6 white tile…nothing special!  Check out what happens to your eye when you look at the after photo!  There are props and accessories that are filling the kitchen with life and taking your eye away from what is a dated kitchen!  We removed the wallpaper border and installed new contemporary handles on the kitchen doors!  What an improvement for only $300.00!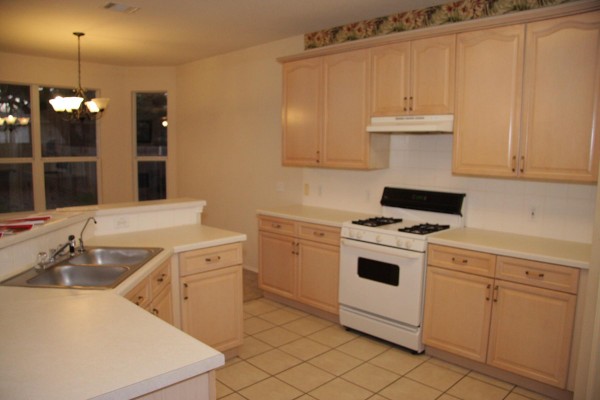 AFTER
All the props below can be rented from Austin Simple Staging.  If you have a vacant home that you need to sell, call for an estimate!  It is amazing what a little fixing up and accessorizing can do!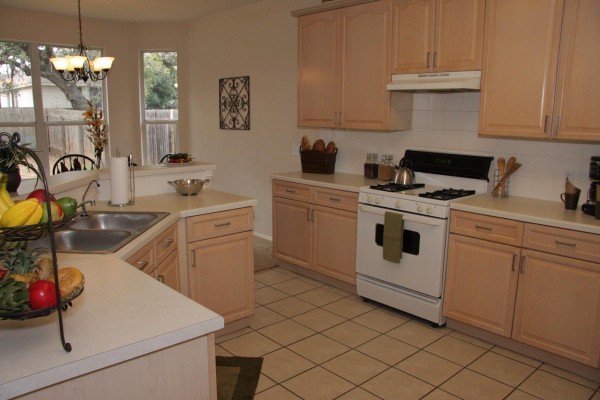 BEFORE
When staging a home it isn't always necessary to rent furniture.  It depends on your budget and the room.  In this case we used a few pieces of furniture the seller had and added some accessories.  The space feels decorated and presents nicely but we didn't spend a fortune!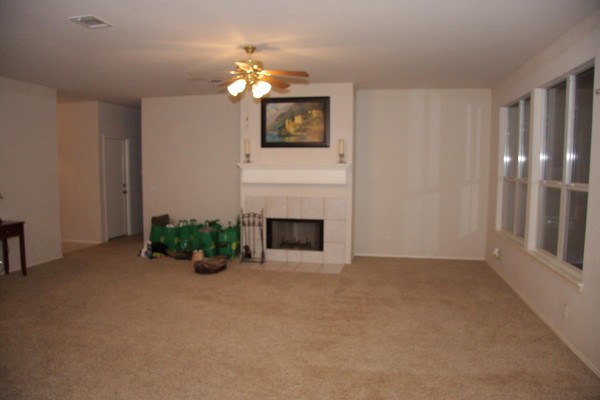 AFTER
This is a huge improvement over the photo above!  I am an extremely practical stager.  I work with the family to make the best of the situation we are in.  It is amazing what  little team work can do!  I met this family, they signed the contract, and we turned this house upside down in less than 24 hours!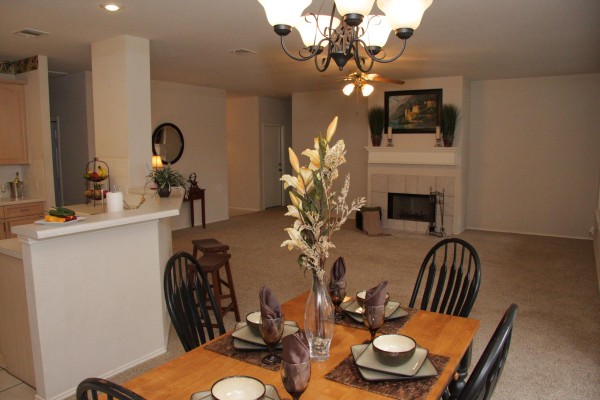 BEFORE
Bathrooms can look so generic when they are empty!  Spice it up and give it some life by renting accessories!  Empty houses are nothing but hard textiles, i.e. tile, granite, hardwood floors, etc.  By renting towels, rugs, floral arrangements, and other accessories it softens a home making it much more inviting for buyers!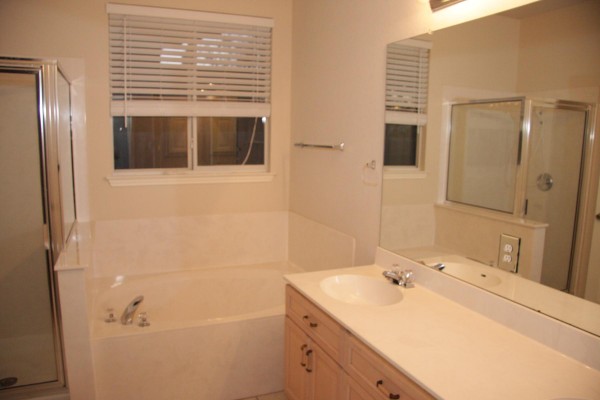 AFTER
Suddenly a boring bathroom turned gorgeous and interesting for buyers!  Check out the handles on the cabinet doors.  We switched out the hardware in the bathrooms as well!  What a huge improvement and it was much less expensive than refinishing the cabinets!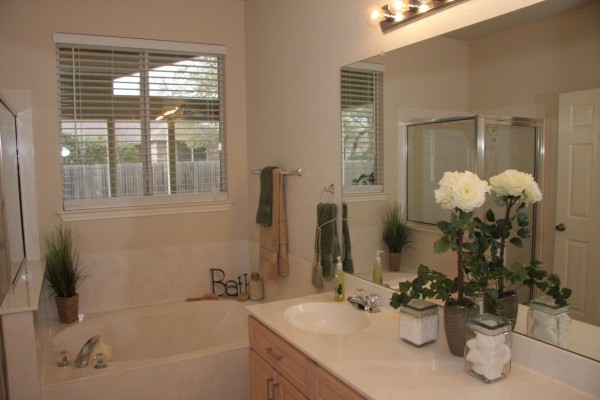 BEFORE
The bathroom was decorated with minimal "left behind" accessories.  It is on the verge of looking desperate and sad.  With a few accessories and a bit of color, look what happens to this bathroom below!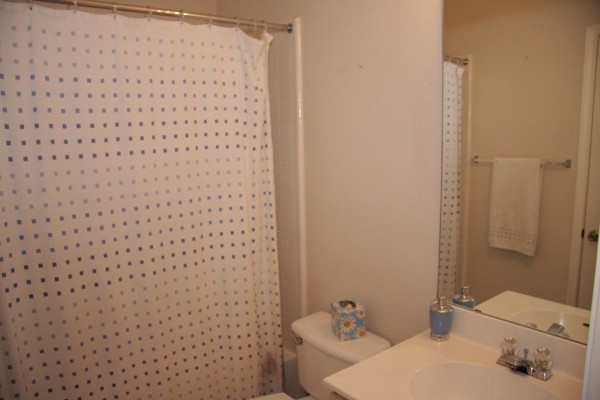 AFTER
If the grout in a shower is clean, show it off!  Most showers are down right disgusting, but if yours isn't, then let buyers know you have taken care of your home!  Always place a small green plant on the back of every toilet in your home.  Fake plants are typically best when staging a home as they will always look perfect.  Dead plants don't give off a good vibe for buyers!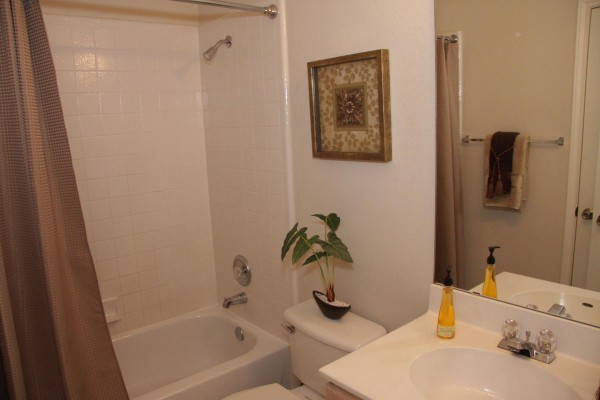 BEFORE
This home has an incredible screened in porch; however, it was set up properly to show it's potential!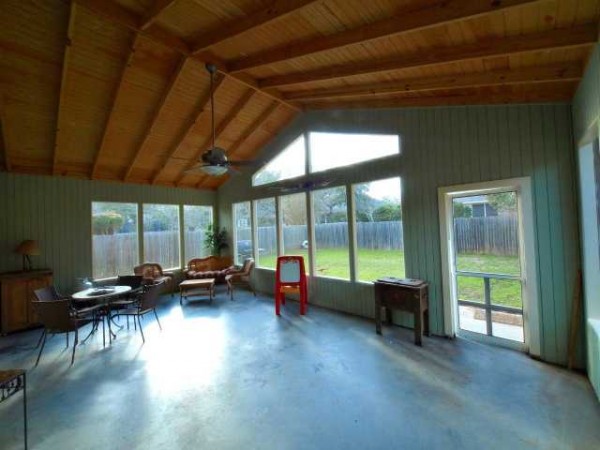 AFTER
After rearranging the furniture and accessorizing a bit, the boring patio was brought to life.  We must show buyers that this is a place to entertain and throw parties.  Most buyers are not visual, so we must do the pre-work for them!