Here are some suggestions to help stage your home and prepare it for buyers!  The more detailed you are when staging your home, the more buyers think you care and take care of your property!  So pull out all the stops and get creative with Austin Simple Staging!
These are a few tips and tricks that we use on an every day basis for
austin home staging, and now you can try them too!
Idea #1- Simplify your Tables
Check out this side table and lamp below. We simply cleared all the clutter from the table and strategically placed a few books on the side.  The reason for this is A) It looks classy and unique as a lamp and bookend, but more importantly B) It lets buyers know this would be a great place to sit down, unwind and read a great book. The more we can invoke feelings of peace and relaxation to a buyer, the better. Notice the blinds are open letting in the sunlight. Always open the draperies and blinds to allow the space to seem bright and airy!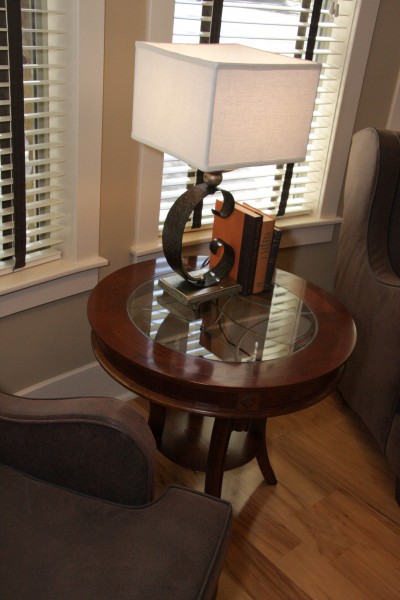 Idea #2- Prepare the Dining Room For A Party
This place setting, flower arrangement, and wall art were placed in a dining room that had previously been vacant.  Bringing in a table and chairs lets buyers know the purpose of this room.  It also shows how nicely a table and chairs can fit in the space.  Often times the size of a room can seem distorted to buyers when left empty.  Therefore, we always want to give them some sort of scale in which to go off.  This might sound crazy to someone who is moving out of their home, but go ahead and set the dining table!  A nicely dressed dining table is always a great idea to get buyers imagining entertaining in the space, and it just looks beautiful!  We love to have most things in the home be of neutral colors, but bringing in a splash of color like the red done here give the room POP!  Buyer are more likely to remember room that POP!
Idea #3- Turn Your Master Bathroom Into A Spa
This bathroom was absolutely gorgeous to begin with but we were able to accentuate it's beauty by adding a plant and some candles next to the bathtub.  That's a trick that anyone with a ledge next to their bathtub can try.  Using new/matching towels is a good idea when staging to bring a feel of cohesiveness to your home.  Using any mismatched, holiday or scraggly towels sends the wrong message to a buyer.  Another tip is to place a basket with some spa like items near the tub or on the bathroom counter like we did here.  A pretty bottle of soap near the sink is a nice touch and remember to clear all other clutter off the counter tops!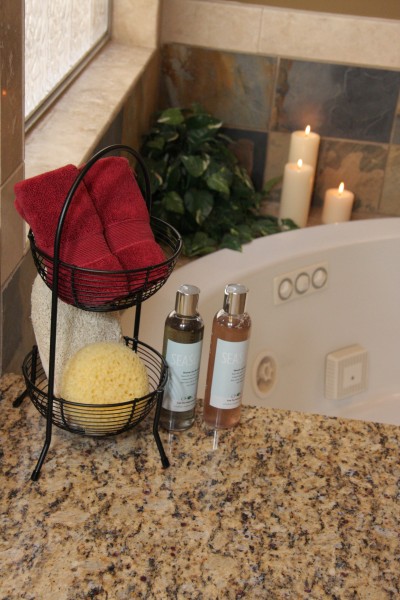 Idea #4- Give Bedrooms Symmetry
Placing a lamp on both sides of a bed is great to give the room symmetry and to maximize the light in every bedroom.  You'd be surprised how many buyers get turned off by a house just because it seems too dark, so light it up!  Placing a light, airy plant or other small accessory next to one of the lamps in a room can make the space feel more inviting and fresh.  Look how precious this flower is and it's simply just one sprig placed in a small vase, very simple!  Austin Simple Staging helps keep your staging experience simple and straightforward.  Austin Home Staging is the your key to a beautifully staged home that will help attract buyers!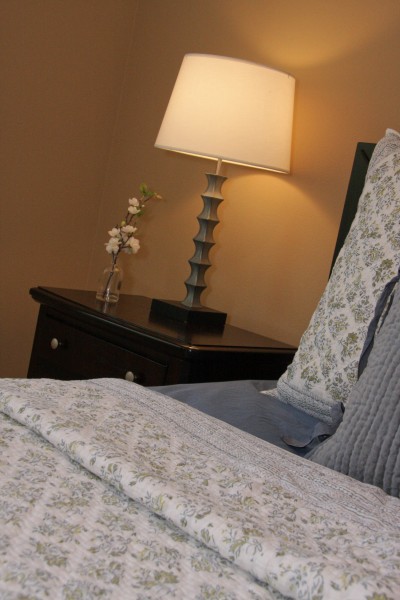 Idea #5- Kitchen Counters- Keep it Simple
Here we see two places where we have set the scene nicely.  We used a bottle of wine and wine glasses in the forefront and with the coffee maker in the background. We simply placed the bottle of wine on a small cutting board and dropped a couple of wine corks inside the wine glasses for a fun touch. On the back counter top, we choose to leave out a coffee maker that had stainless steel on it that matched all the other appliances in the room. We left out two coffee mugs and placed pretty napkins in each to give it some drama. Once buyers see the wine and coffee arrangements, they will immediately start envisioning themselves having a glass of wine or some coffee in the space, and that is exactly what we want because it makes a person start feeling more comfortable in the home.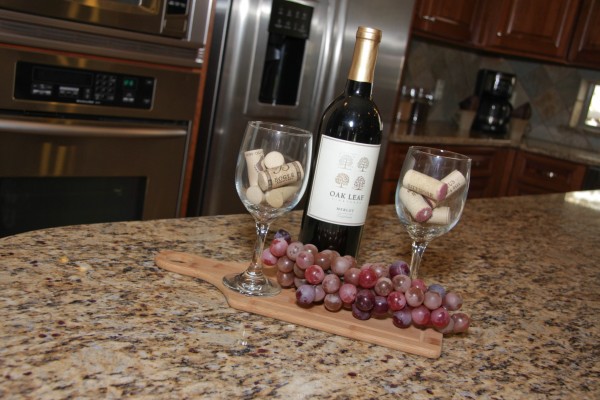 For a FREE Austin Home Staging Estimate CALL Austin Simple Staging
(512) 585-9550