I recently finished staging this phenomenal executive retreat  in South Austin.  There is absolutely no reason to leave this property!  With back up generators, a guest house and pool, what more could you possibly need?  I had the pleasure of working with David Brodsky from Keller Williams to stage this property.  The owners did an incredible job on implementing every last suggestion I made.  It resulted in beautiful photos and will show perfectly.  The photography is by Allison Cartwright with Twist Tours.  For more information on the property please contact David Brodsky at (512) 657-6694.  For more information on staging your home please call (512) 585-9550 for a free austin home staging estimate.  If your home is currently vacant, we provide vacant home staging in austin.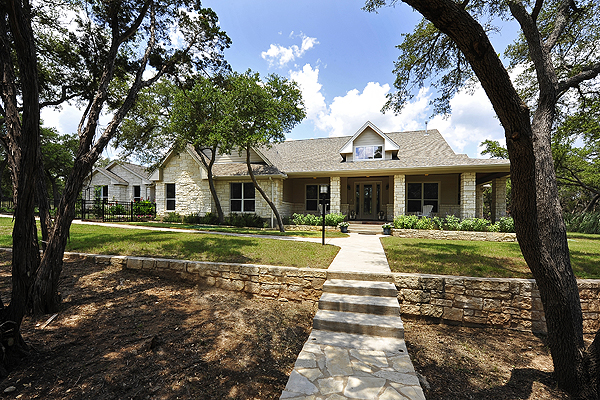 It is extremely important to have your lawn looking perfect for your photos and for showings.  In this instance we brought in a lawn crew to mow and edge the yard and lay down new dark mulch in all the plant beds.  Purchasing fresh mulch before putting your home on the market is a great way to give your home an edge without spending a fortune.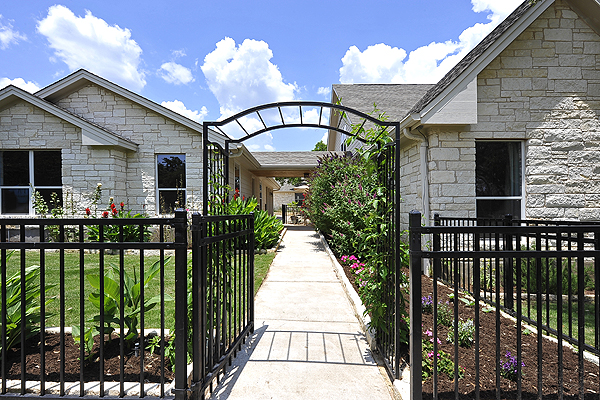 This is one of  two gardens on the property.  Make sure in your garden you have pulled all the weeds, manicured the lawn and cut back all hedges that might seem overgrown.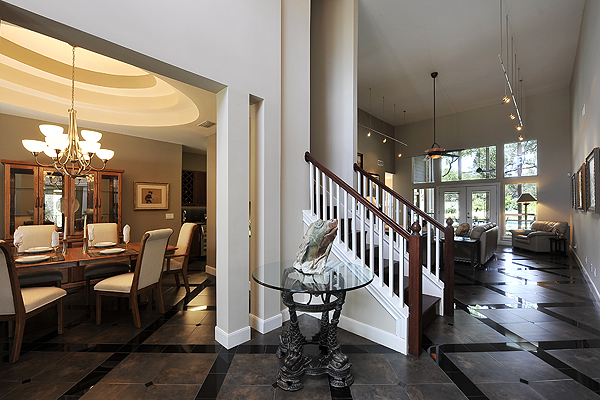 This is the entrance into the home.  This is where the first impression begins.  Be sure not to overwhelm buyers at the entrance.  Leave it simple, yet elegant and you will win them over without question!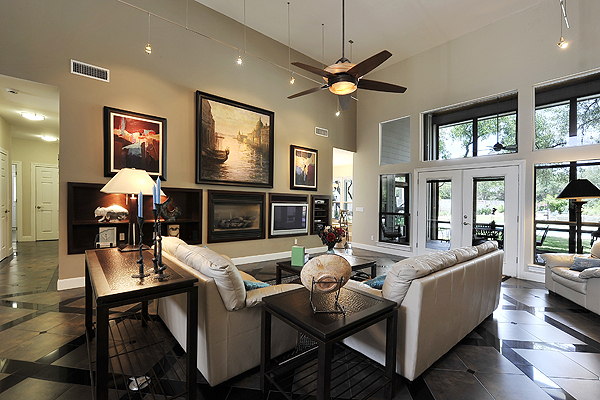 During the staging consult we dramatically changed the furniture arrangement of this room.  The furniture was pushed against all the walls making it feel very cold.  We hung the furniture in the middle of the room and anchored it with a decorative rug.  It made it feel much more inviting and conversational.  I suggested the owners purchase a few decorative pillows for color and punch.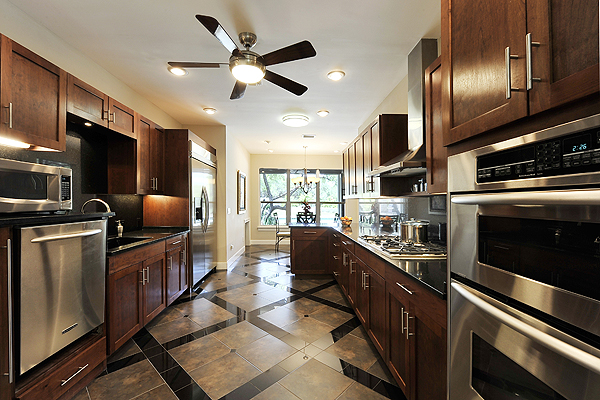 In the kitchen pictured above we placed a few strategic pieces on the counters and a beautiful centerpiece on the kitchen nook table.  Check out the granite floors throughout the home.  It is down right beautiful!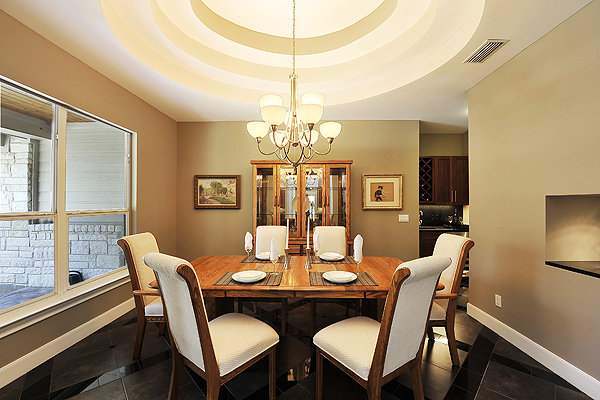 This dining room ceiling is tough to beat.  This is the first room on your left when entering the home.  It was important to again not distract from the features the buyers are truly purchasing.  We set four place settings with just a few pieces of china, de-cluttered the china cabinet and allowed the room to showcase itself!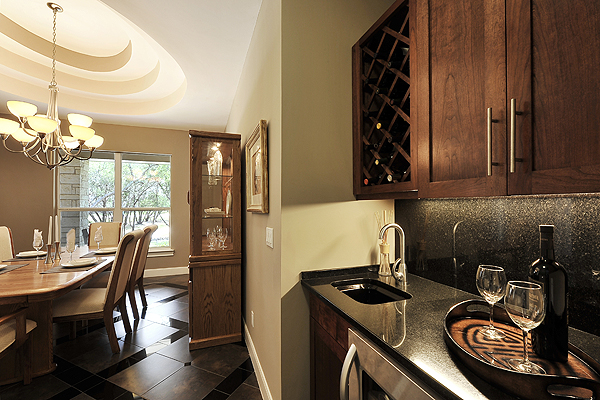 When decorating and accessorizing a home be sure to do it in areas that you want buyers to focus on.  For example, the wet bar pictured above.  This home is a true entertainers paradise and we wanted to make sure we highlighted the areas that would attract to buyers.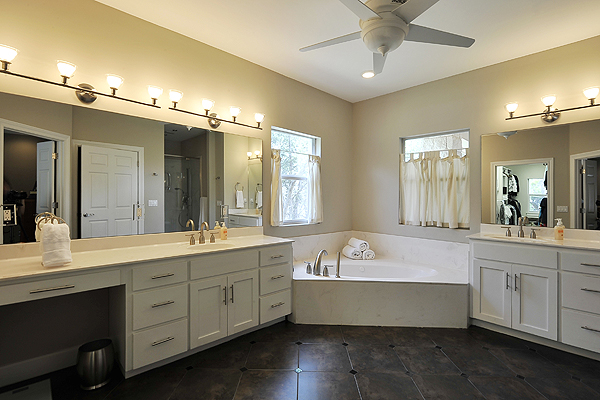 When bathrooms are beautiful as the one pictured above, sometimes it is best to let the bathroom speak for itself and not clutter it with decor.  We simply rolled a few towels and placed a couple bottles of soap at each sink.  We didn't want to distract from the natural beauty of the bathroom.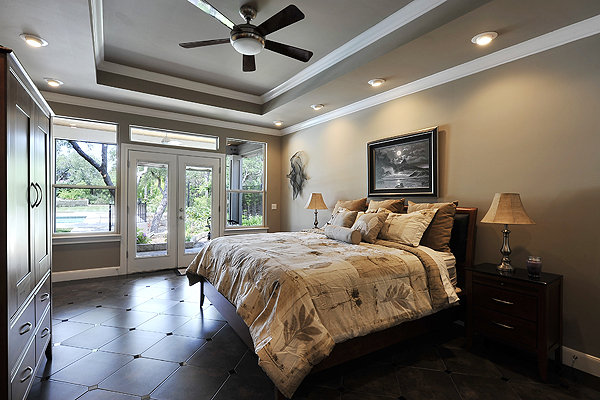 Be sure in your master bedroom to have a nice bedding set.  Bed Bath & Beyond sells Beds in a bag which always do the trick!  The room needs to look and feel like a retreat.  With the bed being the centerpiece it needs to pop and needs to be coordinated!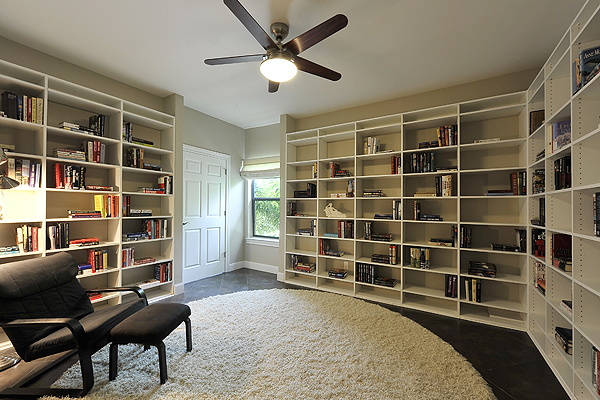 If you have a home library, de-clutter the shelves.  Leave only a few books on each shelf and feel comfortable leaving a few shelves empty.  When the room is photographed it looks cluttered if the shelves are stuffed full.  Reducing the amount of books in a library will also help the room feel larger and more spacious!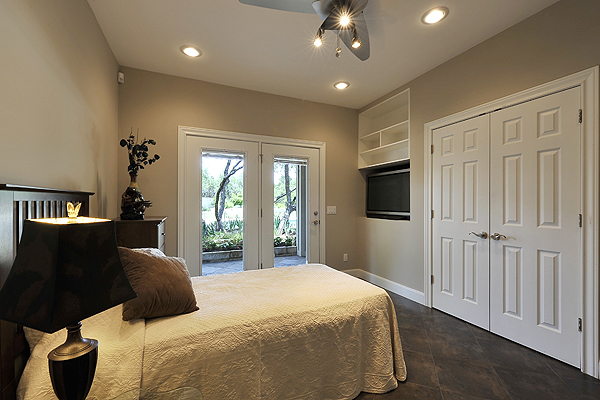 Look at how simple this bedroom is.  Less is more when staging a home.  You don't need a lot of furniture.  In this case we brought in a bed, nightstand and small dresser.  We accessorized the room with a lamp and simple floral arrangement the family owned.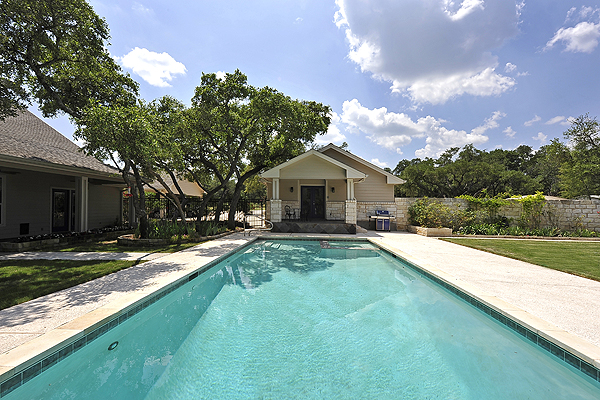 If your home has a pool, be sure to hire a service to keep it immaculate while your home is on the market.  This is a great example of how beautiful a pool can be, as long as it's clean!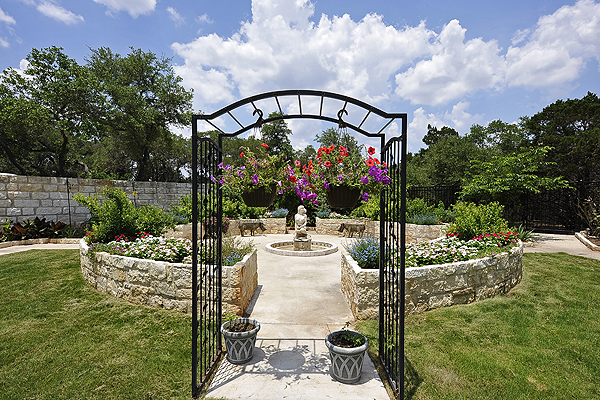 Fresh flowers work wonders for a backyard.  This beautiful English garden can be seen from anywhere inside the home.  Be sure to plant a few colorful groups of flowers in your plant beds before your professional photos are taken.
To find out more information regarding home staging in austin please contact Courtney Unangst.  She can provide details, pricing and help provide direction for how to make your home beautiful!