I staged 2631 Claudia in Leander for Realtor Seth Koppel.  The homeowners were go-getter's and completed everything I suggested to them!  As a result, buyers instantly fell in love with their home & property!  By hiring Austin Simple Staging you will have a two hour consultation where we provide recommendations for how to present your home.  After the appointment you will receive a customized staging recap that includes all suggestions that were made at the appointment.  From our experience, the families who complete their staging recap list, are on the market for less than 3 weeks!
*Photography by Real Tour
CURB APPEAL
A buyer's impressions about your home begin the second they pull up.  It is extremely important that your property be well maintained.  This means have the yard mowed, edged and remove all leaves.  If the outside of your home hasn't been painted in quite some time, it might be worth getting an estimate for what it would cost to have the exterior painted.  If there isn't money to repaint the entire outside of the home, then give the front door a fresh coat of paint.  While the realtor is getting the key out of the lock box, the buyers eyes are roaming!  Make sure the entry way is sprayed down and that your entry rug is welcoming and clean!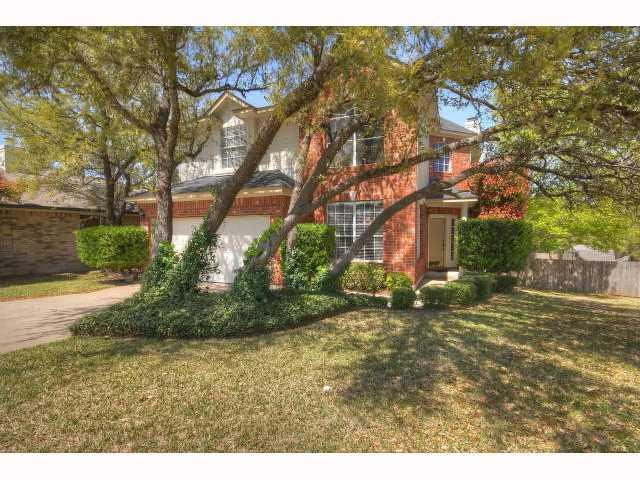 ENTRY WAY
Cathedral entry ways can be extremely tough to decorate.  We often feel there has to be something on every wall.  Let me say, it is simply ok to have an empty wall.  Staging is an interesting science.  We tell everyone we work with that if their home feels the slightest bit bare, then we have done our job!  In this situation, the three pieces of artwork running up the stairs could have easily been removed and the entry way would have been just as dramatic.  This photo is also a great example of how important it is to have every single light on in the house for showings and open houses.  If the light were not on in the back corner of the stairwell, chances are buyers would not notice it!  Have all lights on for showings!  No excuses!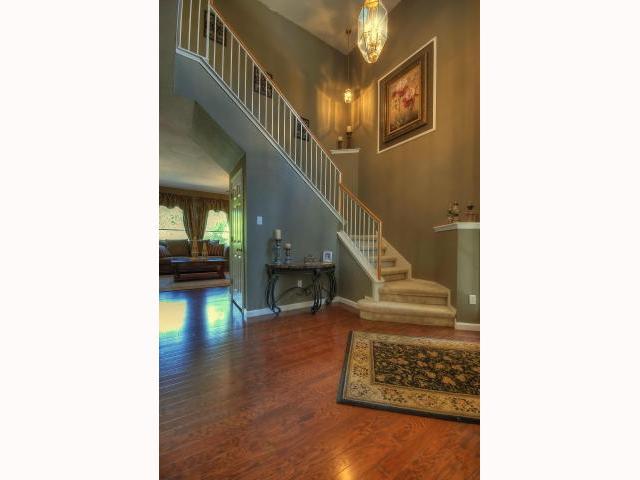 DINING ROOM
This dining room says….Entertain Here!  This is the exact feeling you want to give off when staging your dining room.  Make it have elegance, warmth and a classic feeling!  By setting the table it gives buyers the thought of having family and friends over for dinner.  These are the positive thoughts we want buyers to experience when touring your home.  If you have heavy draperies in your dining room, be sure to have them pulled all the way open.  We want to flood the house with light!  It makes it feel cheery and we want buyers feeling happy and welcomed!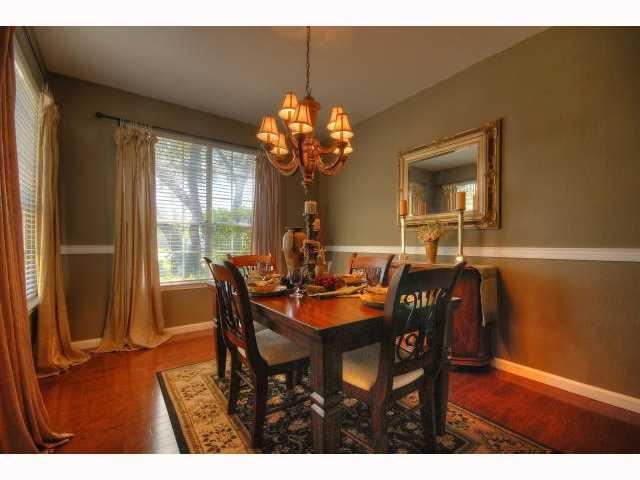 FAMILY ROOM
This family room had extremely large furniture and was missing an intimate feeling.  we pulled the furniture closer to the fireplace to make if feel a bit more cozy.  Notice the coffee table, there are only two accessories on it.  Remember less is more!  When staging a large room, we want buyers eyes to go to focal point- in this case the fireplace.  So by not cluttering the coffee table, it gives buyers the opportunity to focus!  If you make touring your home difficult on buyers, they will move on.  Make it easy for buyers & stage your home!  The results are worth the upfront work of staging!
KITCHENS
Be very careful when staging a kitchen!!!  You want very few things left out on the counters!  If you are going to place decorative items above the cabinets, leave only 3.  It is going to seem bare, but this is good!   Look at what happens in a photo, it instantly gets a bit busy!  The bottom line is this, three items on top of the cabinets and 4-5 items left out on the counter.  Don't allow yourself to leave anything else out!  It gets cluttered looking.  It many not be the most practical way to live, but the hope is you will be under contract sooner than later!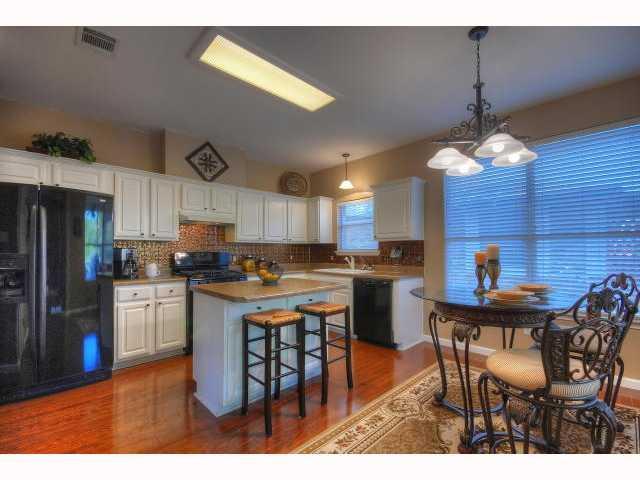 BEDROOMS
Check out this bedroom!  It was originally painted an extremely dark color.  During the two hour staging consultation, we suggested they paint the room a neutral and softer color.  There is no question neutral homes seller faster than colorful homes.  When selling your home, look around and see which rooms don't flow well.  Any room that stands alone from the rest of the home needs to be repainted.  We don't want any surprises for our potential buyers!  This bedroom turned out just beautiful!  Notice how the bed is made up!  It looks like a hotel and is incredibly inviting to all!  This is a stunning bedroom and buyers fell in love!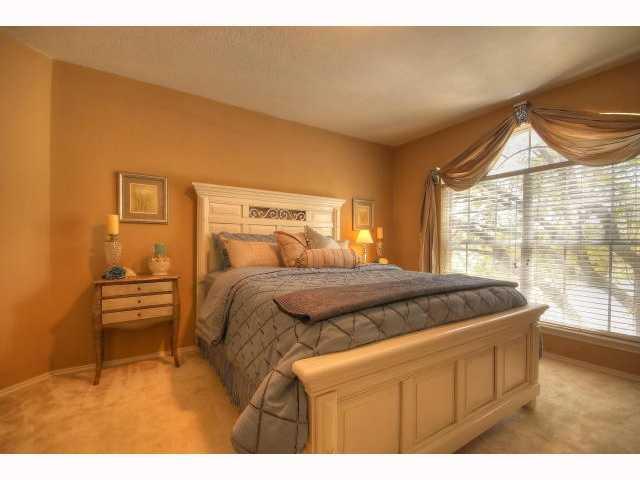 POOLS
Pools are desired by some and hated by others!  Let buyers fall in love with your pool.  Place one or two very simple seating areas around the pool.  Remove all pool toys, floats, and pool cleaning tools.  We don't want buyers to start talking about how much work it is to keep up a pool!  We want them thinking about how relaxing it would be to have a pool to themselves!  Notice the simple potted plants around the pool to make it feel part of the back yard.  Again, keep it simple!  Don't overwhelm buyers with your stuff!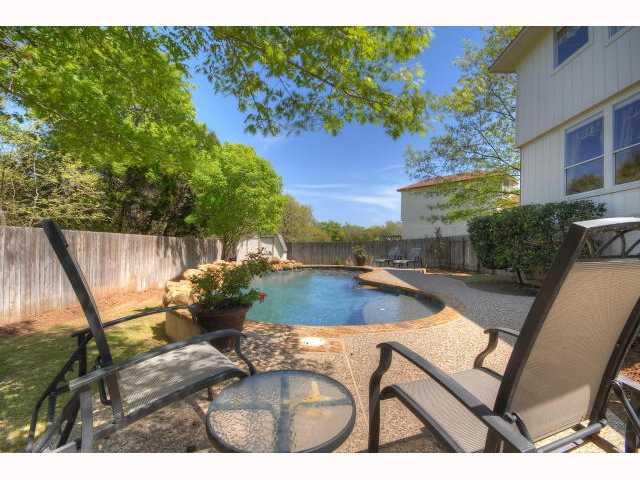 Austin Simple Staging offers austin home staging services
 which can help you accomplish all of this and more!  Call today (512) 585-9550!