Home Staging has forever changed the way in which buyers shop for homes.  Buyers expect to be "wowed" and they expect for their tour to be similar to touring a model home.  It is important to give your home a "lived in" look while simultaneously making it look untouched!  For all the mom's out there…you know this just isn't possible.  By hiring a professional home stager, they assit you in getting creative to achieve this look.  When staging a bathroom use some simple raffia and tie your towels on your towel rack.  You can get creative with it!  Below is a photo of one way.  It makes it look as though it belongs in a hotel.  This is an inexpensive and creative way to make a bathroom stand out from other neighborhood bathrooms!
Here is a photo of raffia on a spool.  It can be purchased at Michael's, Hobby Lobby, JoAnne Fabrics…anywhere creative.  I suggest sticking to the neutral colors, unless it's a kid theme bathroom.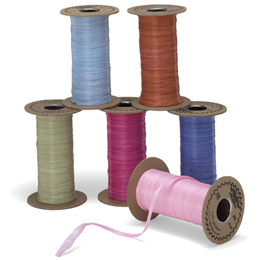 Here is a photo of this technique!  It adds such character!